Dentist in Bergenfield, NJ - Serving Bergen County, NJ
All of our professionals, at the office of Drs. Freed and Gliksman, pursue the highest standards in dentistry while creating a caring environment for our patient's treatment.
George Freed, DMD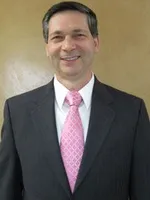 Dr. George Freed graduated Magna Cum laude with Honors in Chemistry from the City College of the City University of New York and spent a year in graduate studies at Columbia University prior to receiving his Doctor of Dental Medicine degree from Fairleigh Dickinson University's College of Dental Medicine. As a member of The American Dental Association, The New Jersey Dental Association and The Bergen County Dental Society, Dr. Freed places a strong emphasis on continuing education allowing him to provide the most current techniques in all phases of dentistry for his patients. As a father and grandfather, Dr. Freed takes great pleasure in treating the children of parents who grew up as patients in his practice. While Dr. Freed happily welcomes all new patients to his practice, he is especially proud that the current patients in his practice have been here an average of over twenty years.
Jeffrey Gliksman, DMD
Dr. Jeffrey Gliksman is a graduate of the Fairleigh Dickinson College of Dental Medicine and completed a one year General Practice Residency at the Robert Wood Johnson University Hospital in New Brunswick. He volunteered his dental services abroad before joining Dr. Freed in Bergenfield. Dr. Gliksman has obtained a Fellowship with the Academy of General Dentistry and maintains membership in the American Dental Association, New Jersey Dental Association, and the Bergen County Dental Society. Continuing Education affords his patients the most current techniques available for required procedures. Dr. Gliksman particularly enjoys cosmetic bonding, allowing patients a less costly cosmetic alternative to porcelain laminates and crowns. Dr. Gliksman is a proud father of four children and a graduate of Rutgers College. He tries to get to New Brunswick as often as he can to cheer on his Scarlet Knights.
Jacquie - Office Manager
Jacquie had worked in dentistry for over 10 years prior to joining our staff in 2006.. She attended William Paterson University and Montclair State University. Jacquie is very personable and particularly enjoys interacting with our patients. Her patience and calm demeanor have aided her working in the ever-changing healthcare field. She will gladly assist you with coordinating treatment plans, scheduling, finances and insurance.
Jeanett - Dental Assistant
Jeanett has been a dental assistant in our office since 2000. She received her radiography certification at the Dental Studies Institute. Jeanett enjoys working as a team with Dr. Gliksman and enjoys meeting new patients, as well as long-time patients. She is bi-lingual, speaking both English and Tagalog. When she is not working, Jeanett enjoys spending time with her helpful husband and their two beautiful children.
Dina - Dental Assistant
Dina has been a dental assistant in our office since 1997. In addition to obtaining an Associates Degree in arts and science, she also graduated from Berdan Institute with certifications in infection control, dental radiography and chairside assisting. She enjoys the diversity of her job, assisting in the many different aspects of dentistry. She especially likes the cosmetic procedures. Watching a patients' transformation instantly boost their confidence is very rewarding to her. Dina knows that a new smile can ultimately change a persons' life and she is happy to be a part of the process.
Susan - Director of Social Media
The most recent addition to our practice in 2014, Susan comes with over 35 years experience in the dental field. A graduate of Fairleigh Dickinson University, with degrees in Business Marketing and Management, she brings a lively, intelligent approach to the business side of our office. She can also help you mange your insurance claims. Married with two grown children, she enjoys spending some of her leisure time spoiling her four grandchildren. If you enjoy browsing through this web site, liking us on Facebook or exploring any of our other Internet presences, you have Susan to thank. Feel free to email her at [email protected] with any suggestion or comments.